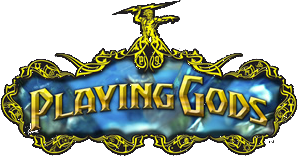 The earthly and divine realms meet in Playing Gods. Whether wreaking disasters of
biblical proportions
on innocent populations or bestowing providence and goodwill, the gods have ever made sport and pawns of mankind. Though possessing vast powers, the gods are jealous. Other gods, with their minor miracles and ridiculous rituals, diminish the glory and importance of the one true god – or so each of them believes!
Lightning. Tornadoes. Tsunamis. Plagues.
Natural disasters? Or signs of gods' wrath?
The earthly and divine realms meet in Playing Gods. Whether wreaking disasters of biblical proportions on innocent populations or bestowing providence and goodwill, the gods have ever made sport of humans. Though imbued with amazing powers, the gods are jealous. (It's no coincidence that the very first of the Ten Commandments is "You shall have no other gods before me.") Other gods, with their silly miracles and ridiculous beliefs, diminish the glory and importance of the one true god-or so each of them believes! Enact the religious struggles ripped from today's headlines with Moses, Jesus, and others, or step back in time to don the mantle of the Norse ruler Odin, the Roman god Mars, the Celtic warrior Morrigan, or Kali the Hindu god. Wiccans can battle Scientologists and ancient Mayan gods for control over the world... the only limit is your imagination. Unleash floods and plagues on each other's followers, while protecting your own flock. The god with the best strategy, skill, and luck shall rule the world....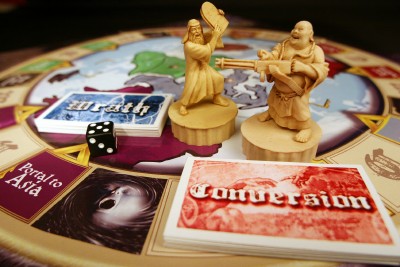 Playing Gods
Playing Gods is a satirical board game of divine domination. Two to five players each play a different god, and compete with each other to take over the world. This is done by spreading your believers, converting the followers of other gods, or killing them off with Acts of God. Playing Gods also has an open-ended structure that encourages player creativity. For example, players may choose to be a figurehead of one of the five main religions, or they may choose to create their own gods – or even be their own god! In the Expansion Pack, artistic and creative players may even write and design their own cards.
Teaching and Commandments
Playing Gods is fairly simple to learn. The board is a simplified map of the Earth, with five continents each containing four regions. Colored chips representing sects (groups of followers) are placed on those regions. Circling the globe is an outer ring where the gods move around the board, gathering power through Wrath and Conversion cards. Wrath cards (also called "kill cards") are used to bring down Acts of Gods and natural disasters, while the Conversion cards are used to convert other gods' followers to your beliefs. The game ends when one god has either killed or converted all other gods' sects, or has spread followers to occupy more than half the world (11 regions).
Playing Gods Expansion Pack
Playing Gods is complete, and nothing else is needed to enjoy the game. The cards and rules are god-neutral, and apply equally well to any gods you wish to use or create. However, for those players who wish to delve deep into the well of blasphemy (or just want to see deluxe cards with full-color images of the gods), I offer an Expansion Pack with 30 deluxe cards specific to the five major religions. They provide special attacks and defenses based on each religion's characteristics, and are easily incorporated into the existing rules and card decks. You can even write your own specialized attack cards!
Playing Gods Limited Edition Idols
The six god figures (idols) included in the Playing Gods game are unique, deluxe pawns, far more interesting and detailed than those generic cheap plastic playing pieces in most board games! However, official Playing Gods Limited Edition Idols are also available and sold separately. The Limited Edition Idols are made in the USA, hand-cast in hard resin from high-quality rubber molds, nearly 3 inches tall, and highly detailed. Because they are cast and finished by hand, they are more expensive to produce than the injection-molded deluxe pawns and will only have a limited production run. They are suitable for painting or just putting on your desk to watch the world's gods fight it out.
Learn More:
NOTE:
Playing Gods is nearly sold out; if you wish to order you can try Amazon.com
.