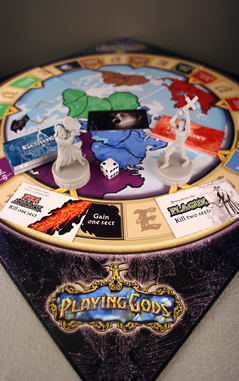 Here's what people have been saying about Playing Gods: I played Playing Gods with my kids (ages 7 and 8) and we really loved it. We had a great time playing, and it was fun watching them argue about who gets to be which god. It is great to see original games like this.
--D. Lansky
I contacted you about a missing game piece in my Playing Gods game, and I would like to say thank you very much for taking care of my missing Kali figure right away. Anybody who takes care of customers like you did deserves to make it in this business. Thanks again.
--C. Rantz
The new indie board game Playing Gods is one of the coolest and most important things to happen to parlor games since they released the NHS edition of Operation.... Add in wrath cards to bring down your heavenly fury and Conversion cards to boost your box of divine tricks and you have a game so addictive you'll steal a TV to buy the expansion pack. Someone should really distribute this game to all the world's spiritual leaders so they can settle their differences without destroying us in the process.
--ZombieBacon
Greetings in the name of our saviour the Flying Spaghetti Monster!  I saw this game and I knew it HAD to be purchased. Well, we finally got around to playing it tonight with the kids...and had a blast (not a 'smite' from god). What a great game! Thanks!
--David Allen
I'm very impressed - as an avid fan of board games, I can honestly say that this is right up there with Cluedo and Monopoly in the playability stakes. It deserves to be a classic of the future, and I will be recommending it to everyone. It's a funny, clever and enjoyable game, with a well-crafted game mechanic and a fairly original premise. The board and pieces (I sprang for the Special Edition pawns, but the regular ones are pretty cool-looking too) are well-made and nicely proportioned, in fact the design overall is very crisp and professional. The game plays well, without any awkward hiatuses or log-jams in the flow of actions, and although reasonably complex, is no more difficult to learn than Cluedo or Monopoly. Plus, it has some nice humorous twists, especially in the Expansion Pack cards. If you've ever had an inkling that you were destined for more than this mortal life, Playing Gods could be the route to realising your dreams of omnipotence. Cheers for all the hard work you've put in.
--Stuart Turner (Read the full review here)
Playing Gods is awesome, and damned funny. The game involves rolling a die, moving your god around the aetheric pathway around the world, and using cards to try to kill or convert the sects of the other gods.  It's Candyland for people who want the express train to Hell.  It's offensive and twisted. It's side-splitting fun, and I don't care if it has anything in common with chess, because I had a blast playing it. Hell, we had so much fun, we played it twice, even though one player got Godkilled in both games.  I think the greatest thing about Playing Gods is the point it makes, pointing out how retarded it is to go to war over something as petty as a religious difference. And it makes you laugh the whole time with humor and great satire. One thing that deserves special notice is the production value in this game. Balls Out Entertainment must have hit the lotto, because this game has to cost a bundle to make. The art is perfect. The figures in the game are flat-out gorgeous - easily the most beautiful sculpts I've ever seen on board game pawns (as long as you can find beauty in sacrilege - and I can). The cards are slick and durable. The board is fun to look at. In short, Playing Gods is put together so well, you'll wonder how they can afford to sell you a copy for forty bucks.
--Matt Drake of Drake's Flames (Read the full review here)
[I saw] an ad for Playing Gods, featuring a green-faced Santa Claus [actually, Buddha dressed as Santa] firing a machine gun in our direction with glee. Please do not print these extremely offensive and low-class ads. I am worried about the children who may glance at this, but also the deep-seated cynicism and hopelessness behind the image. Ultimately, it has been conceived of by someone who finds violence "cool."  These companies are eager to make money off of anything that sells: violence, misogyny, racism, greed, revenge, cruelty and despair. I don't know what the game itself involves, but I do know that the majority of video games are all about kill, kill, kill. Think twice about buying into the corporate sponsorship of violence.
--Bonnie Bluhm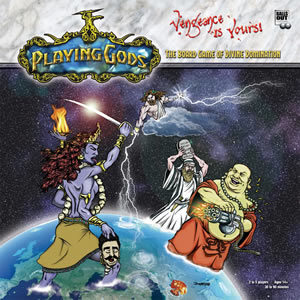 Playing Gods has been the best-selling game in my store! I've moved almost 20 copies of the game in the past two weeks, and that's more than any other board game or RPG we carry. People love it, it's a great game!
--Jeff Brofsky, owner of Tall Tales Comics and Games, Albuququerque, NM
Please send more games! Playing Gods is flying off the shelves. I know we ordered 24 last week, send another 24 as soon as possible, we can't keep them in stock!
--Sheila M. at EvolveFISH and Liberal stores (online and Colorado)
"Thanks for your amazing game! It's smart and funny and so handsomely mounted! Best of luck with it!"
--Mike Reiss, writer and producer for The Simpsons
As an avid gamer, I can assure you that this game is not only sacrilegious, it is excellent in design and a blast to play! The mechanics of the game are well-balanced, the board and pieces are professional quality, and the game play moves fast and keeps everyone busy. Definitely recommended to any lover of the "Settlers of Catan" or "Talisman" style of game, regardless of which cult you belong to!
-- Dan Smith, Texas
"[Playing Gods] sounds too stupid to go far."
-- Carl Raschke, Professor of Religious Studies, University of Denver
"The Playing Gods demo went well. Had two long games, one extremely long one with three resurrections! Really interesting to see the different evil plans used... A lot of interest in the game as people who regularly play the same games every week were talking about Playing Gods at neighboring tables and walking over to watch and ask questions during the down time!"
--Mark W.
"The game is beautifully manufactured with some of the nicest pawns I have ever seen in a board game. They are quite stunning. [Note: this refers to the Limited Edition idols, available exclusively at PlayingGods.com] Playing Gods is also simple to play....and has a lot going for it. It is superbly made, offers high quality board and pawns, has great game play and comes with a smart, cynical and satirical tone. The Wrath and Conversion cards are amusing but also make you think about the inherent violence in religion and superstition... Playing Gods is blasphemy with style and offers a great board game with a good dose of insight and a great load of fun!"
--Synergy Magazine / Australia (Vol. 1 No. 4, pp. 56-57)
"I must say that we have been having a great time Playing Gods. My six year old is a pro and gets a kick out of wielding Wrath. This last Sunday we Played Gods in the morning and then saw Religulous in the afternoon. We now have a Sunday ritual. Thanks for your creativity and your autograph!"
--D. Robison
"Just received the game: A plain brown box with a giant sticker that says "Balls Out Entertainment." I walk into the leasing office and the ladies said, "Hey you got a package...what is it?" They weren't buying the innocent 'game' routine, so I had to open it so they would believe it wasn't a blow up doll or something similarly adult!"
--D. Manikas
"I love the game, thanks!"
--Maria Mercado, one of dozens of uber-satisfied customers
"Most important, the game is fun to play! My family has had a good time with it. It bridges generations. Thanks!"
--R. Schussler
(About the Limited Edition idols): "Those are high-quality pieces, great detail and quality resin. I work with scale models, and I can tell you that at the store I work, each of those figures alone would cost ten or fifteen bucks each. So $20 for five [actually, six] of them is a bargain."
--An anonymous Dragon*Con 08 attendee, talking to a potential game buyer
"Just 'cause they produce the game, don't make it right!"
--Phil Collins (again)
"I would very much like to incorporate Playing Gods into my home catechism program for my ten-year-old daughter."
--Gert Perry-Piper
"I'm a Christian, and yesterday my uncle bought your game. We played it, and I wanted to let you know that we loved it. We thought it was great. It was funny. You have to have a sense of humor, but we didn't think it was offensive. Cool game."
--Zak Ribblett, Dragon*Con 08 attendee
My friend Chad bought Playing Gods at Dragon*Con. From everything I'd seen and heard at the booth at the con, Playing Gods sounded pretty awesome, and I was really excited to see it in action.... We had a blast with the game. I was the Buddha, Chad was the Muslim figure, Lane was Moses, and Bruce picked Jesus. I managed to make the first major incursion on someone else's territory by unleashing a plague of locusts in Africa. That made me a major target later on in the game when I drew the Godslayer card. It passed around the table as each of us made a point of trying to steal it from one another. In the end, Lane managed to get ahold of it and land on the Godslayer space. Lane proceeded to pretty much dominate the game after that. He converted all of Bruce's sects, knocking him out temporarily. Then he went after Chad with a vengeance, eventually drawing the Godslayer a second time and using it to put an end to Islam; eventually the Jews inherited the earth. It's a mark of a great game when you can lose badly and quickly, like I did, and still have an absolute blast doing it. The various Conversion and Wrath cards have some great flavor text on them, and the mad scramble to be the guy with the Godslayer card on the right part of the board was downright hysterical. We all want to play it again as soon as we can. Chad also got the set of limited edition idols... they're really well made, and enhanced the game tremendously. He also got a set of expansion cards geared toward those five major religions. In addition to those five, there are stickers for making tokens to use of you want to play as anything from Scientology to Pastafarianism, and anything in between. I highly recommend the game to anyone open-minded enough to be able to poke fun at their own religion (along with everyone else's). It played pretty quickly with four players, and had us all laughing all the way through. It's currently available for pre-order, but I suggest getting your friendly local gaming shop to contact the distributors and get a few copies ordered. You won't be sorry.
--Corwin, gamer at Last Exit to Babylon
"That's just wrong!"
--Phil Collins (No, not him; Phil Collins, gaming director at Dragon*Con)
Want to contribute a review? Let us know.