Squaring the Strange Podcast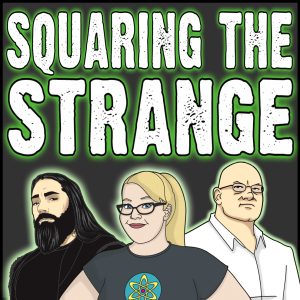 Hosted by Benjamin Radford, Celestia Ward, and Pascual Romero, Squaring the Strange brings evidence-based analysis and commentary to a wide variety of topics, ranging from the paranormal to current events.
Investigating ghosts. Debunking conspiracies. Dodging chupacabras. Calling shenanigans where appropriate.
If a claim seems strange, Ben, Celestia, and Pascual will try to square it with the facts. Along the way, listeners will learn about psychology, myths, hoaxes, folklore, science, and all the things that add up to strange experiences—both real and unreal.
Benjamin Radford is deputy editor of Skeptical Inquirer science magazine and a Research Fellow with the Committee for Skeptical Inquiry. He has authored thousands of articles and a dozen or so books on a wide variety of topics including urban legends, folklore, the paranormal, critical thinking, and media literacy. His recent book Mysterious New Mexico: Miracles, Magic, and Monsters in the Land of Enchantment garnered a 2015 Southwest Book Award, and his 2018 book Investigating Ghosts garnered a New Mexico-Arizona Book Award in the science category. To find out more about him, click around this page until you find a link!
Celestia Ward, formerly the content producer and now the third cohost, works as a freelance illustrator and live caricature artist in Las Vegas, Nevada. With a writing degree from Johns Hopkins University and a background in academic publishing, Celestia still edits skeptical material and cranks out the occasional skeptical comic. She listens to far too many skeptic podcasts, and she especially enjoys writing bios for her skeptic podcasting friends and providing other content for pages like this. You can find her work at www.2HeadsStudios.com.
Raised by a history professor and an archaeologist, Pascual Romero was brought up in a household steeped in critical thinking and scientific literacy. He entered professional music at the age of 10, playing and touring with his father's Spanish Folklorico band, eventually establishing himself in LA, where he played with several major acts. Pascual toured relentlessly, and when he wasn't on the road he helped make TV shows (such as "Heroes" and "Pushing Daisies") and orchestrated cross-promotion that tied live performances with several Lionsgate films ("House of 1000 Corpses," "Saw," "The Punisher," and others). In 2010 he moved back to New Mexico and started his own production company, Kronos Creative (www.KronosCreative.net), where he spends his days creating all manner of video and audio content. Pascual also promotes many live music events and, in 2016, he co-founded Apewhale Records (www.Apewhale.com), a label that has already released several albums and has several more on the burner. He lives with his wife, Ashley, and two children, the inquisitive and talkative Felix and the quieter, fiercely adorable Luna.
Our podcast is 100% volunteer; if you'd like to help support Squaring the Strange, please consider donating at our Patreon account, leaving us a review, or telling a friend. Every listener makes a difference.