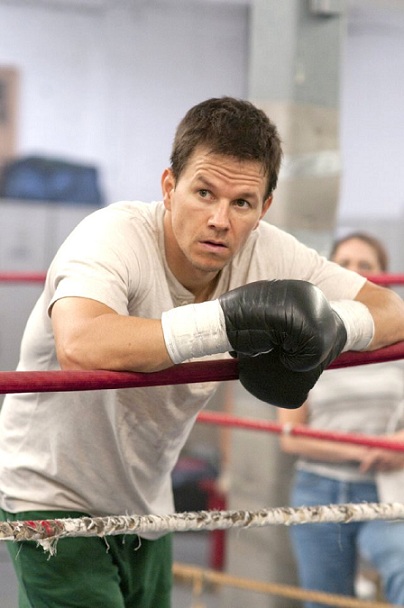 The Fighter tells the true-life story of welterweight boxer Micky Ward and his rise to fame from hardscrabble roots. As a general rule, I rarely like sports movies. Though there are many good ones, they usually fall into the same boring, formulaic plots. The Fighter gets around this problem by barely being a sports movie at all; in fact it has surprisingly few boxing scenes for a film about a boxer. For as much ready-made drama as there is to be found inside the ring, director David Russell and the screenwriters recognize that Ward's real dramas occurred in his everyday life.
It is precisely because The Fighter focuses on Ward's family that the characters are fleshed out, and the actors are allowed to do their stuff. The titular character refers to Micky Ward, but in reality everyone in the film is fighting for something. Micky's half-brother Dicky (Christian Bale), himself a former boxer whose claim to fame is knocking Sugar Ray Leonard to the mat (Leonard may have tripped), dreams of a comeback but his life has been derailed by crack cocaine addiction. Micky needs Dicky to train him, but it's not going well. That changes when Micky meets Charlene (Amy Adams), a scrappy barmaid who recognizes that his family's drugs and dysfunction are keeping Micky from developing his true ability. Micky wants to remain loyal to Dicky and his family, but knows that his career is doomed if they manage him.
The three leads are excellent, and there's not a false note in the bunch. Mark Wahlberg previously worked with director Russell on the 1999 war comedy-drama Three Kings, and gives a surprisingly understated performance as Ward. Christian Bale is brilliant as Micky's wrangly, twitchy, drug-addicted half-brother Dicky, the one-time pride of blue-collar Lowell, Massachusetts.
Though I rarely watch boxing, Micky Ward was one of the few boxers I remember, and he was a fascinating athlete to watch. He was perhaps best known for his devastating body blows. Ward salvaged more than a few of his losing fights with a punch to his opponent's kidney, dropping the other boxer like a sack of potatoes.
The Fighter, like Million Dollar Baby, has some unavoidable sports movie clichés but sidesteps many others. It's much more than a boxing movie; it's about family, potential squandered by drugs, and redemption.