MMA fighter claims that he was attacked by two clowns, one armed with a sledgehammer and the other with a knife. When he saw them approach one night his martial arts training kicked in and he immediately crouched into a fighting stance. He fought them off in a valiant battle, and called the police to recount his heroism.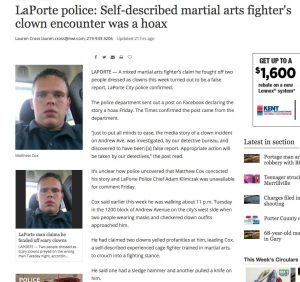 Of course he later admitted he made up the whole thing…
You can find more on me and my work with a search for "Benjamin Radford" (not "Ben Radford") on Vimeo.