Now and then I review films (I have since 1994), and I thought I'd share a recent one: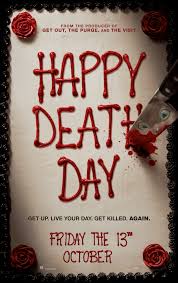 The new slasher film Happy Death Day follows a young woman named Tree at a Louisiana university who wakes up in a dorm room with her phone blaring "Happy Birthday" (yes, it's her birthday) and goes about her disheveled but otherwise ordinary day sniping with nasty sorority sisters and whatnot until that evening when she's menaced (and eventually killed) by a creeper in a giant baby mask (it's the school mascot, apparently).
Terrifying enough, but then she wakes up the next morning—or perhaps the same morning—with a sense of relief that it was all a dream. But the relief turns to déjà vu
as the day is repeated, with minor variations, until the killing happens again. Tree remembers what happened the previous day, of course (otherwise there would be no film), though none of the other characters do. At some point, with the help of her friend Carter, she somehow, apparently, divines the "rules" of the loop she's in and tries to subvert them in order to prevent her death and catch her killer.
Happy Death Day is kind of like the opposite of Happy Birthday—though technically it would be Happy Birth Day, which no one says, since "birthday" is one word—and, well, I guess the real opposite would actually be something like Sad Death Night, but anyway, yeah, I'm already putting more thought into the title than co-writer/director Christopher Landon did with the plot.
Equal parts Mean Girls, Groundhog Day, and Scream, Happy Death Day has some ideas for directions the script wants to go, but it doesn't really explore them. At one point the message seems to be that Tree is maybe reliving the day so that she can see what a bitch she is and become a better person; that theme propels a few scenes until it's abruptly abandoned and the focus turns to trying to identify her killer (as she, for unexplained reasons, comes to believe that it's the key to getting out of this recurring time loop). Because the film's premise isn't anchored in any discernible rules (other than what the characters intuit—and really we as an audience should have more information than they do), it's hard to get too involved in the nonsensical plot.
For a film whose gimmick relies on repeating key scenes, the filmmakers are resourceful (if not wholly successful) at finding ways of making the repetition less annoying. For example they use different lenses, depths of focus, and so on, to show the same scenes in slight different ways. What Happy Death Day does have going for it is a bit of fun and a talented lead actress, Jessica Rothe, who glides gracefully between camp and pathos.
The twist at the end is the kind that makes sense if you think about it for a moment—but only a moment, because as that turns into two or three moments you realize that it doesn't actually make any sense at all, and that (unlike, for example, Memento or The Usual Suspects) the joke is on you for wasting energy devoting neurons to what is essentially a shaggy dog story. If this is the kind of movie that annoys you (as it often does me), caveat emptor.
Watching Happy Death Day I experienced a sort of film critic's whiplash; parts of the movie were eye-rollingly bad, but a few minutes later were surprisingly good. Just as I thought it was stuck in a one-star gear, it found its groove and was heading right for three stars (but not four). It's funny, but not really funny enough to be a successful comedy; it's scary, in a few spots, but also not scary enough to be a good horror film. I guess it's best described as diverting or amusing, a passable if uninspired way to spend an hour and a half of your life. Overall I have to give Happy Death Day a tepid recommendation—as long as you know what you're in for.
You can find more on me and my work with a search for "Benjamin Radford" (not "Ben Radford") on Vimeo, and please check out my podcast Squaring the Strange!