The film The Shape of Water received thirteen Oscar nominations and won four (Best Picture, Best Director, Best Production Design, and Best Original Score). The film follows the romance between a custodian at a secret government laboratory and a captured human-like amphibian creature.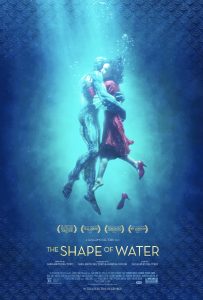 The creature's origins are not clear; he (the gender is eventually revealed in an unusually mainstream passing reference to bestiality) may be a demigod, or a member of some unknown species. Though not specifically described as a merman–the story was inspired by Creature from the Black Lagoon–the creature nonetheless shares many features of classical mermen.
Merfolk are the marine version of half-human, half-animal legends that have captured human imagination for ages. Greek mythology contains stories of the god Triton, the merman messenger of the sea, and several modern religions worship mermaid goddesses to this day.
Though not as well known as their comely female counterparts, there are of course mermen–and they have a fierce reputation for summoning storms, sinking ships, and drowning sailors. One especially feared group, the Blue Men of the Minch, are said to dwell in the Outer Hebrides off the coast of Scotland. They look like ordinary men (from the waist up anyway) with the exception of their blue-tinted skin and grey beards. Local lore claims that before laying siege to a ship the Blue Men often challenge its captain to a rhyming contest; if the captain is quick enough of wit and agile enough of tongue he can best the Blue Men and save his sailors from a watery grave.
You can read the rest at my CFI blog HERE.
You can find more on me and my work with a search for "Benjamin Radford" (not "Ben Radford") on Vimeo, and please check out my podcast Squaring the Strange!