In the new issue of Skeptical Inquirer magazine I investigate the legend that Egyptian mummies were used as fuel in locomotives, with an illustration by Celestia Ward!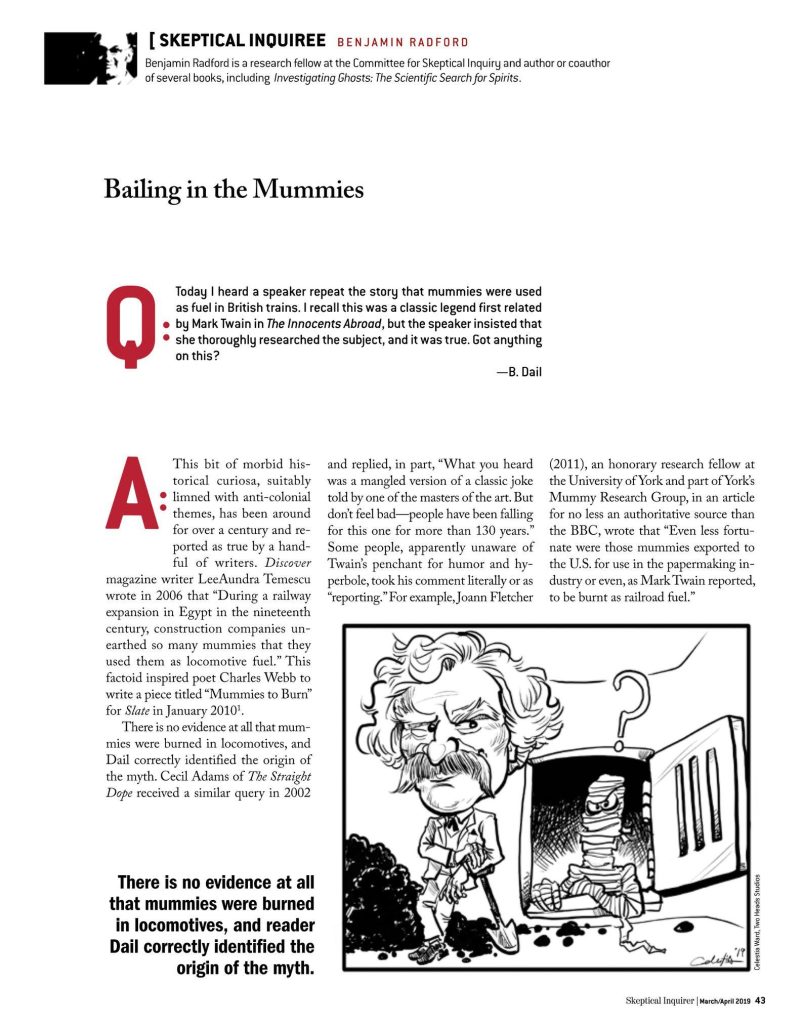 Q: Today I heard a speaker repeat the story that mummies were used as fuel in British trains. I recall this was a classic legend first related by Mark Twain in The Innocents Abroad, but the speaker insisted that she thoroughly researched the subject, and it was true. Got anything on this?

–B. Dail


A: This bit of morbid historical curiosa, suitably limned with anti-colonial themes, has been around for over a century and reported as true by a handful of writers. Discovermagazine writer LeeAundra Temescu wrote in 2006 that "During a railway expansion in Egypt in the nineteenth century, construction companies unearthed so many mummies that they used them as locomotive fuel." This factoid inspired poet Charles Webb to write a piece titled "Mummies to Burn" for Slate.com in January 2010.
There is no evidence at all that mummies were burned in locomotives, and Dail correctly identified the origin of the myth. Cecil Adams of The Straight Dopereceived a similar query in 2002 and replied in part, "What you heard was a mangled version of a classic joke told by one of the masters of the art. But don't feel bad—people have been falling for this one for more than 130 years." Some people, apparently unaware of Twain's penchant for humor and hyperbole, took his comment literally or as "reporting." For example Joann Fletcher (2011), an Honorary Research Fellow at the University of York and part of York's Mummy Research Group, in an article for no less an authoritative source than BBC, wrote that "Even less fortunate were those mummies exported to the U.S. for use in the papermaking industry or even, as Mark Twain reported, to be burnt as railroad fuel." 
For more, see the current issue of Skeptical Inquirer!
You can find more on me and my work with a search for "Benjamin Radford" (not "Ben Radford") on Vimeo, and please check out my podcast Squaring the Strange!